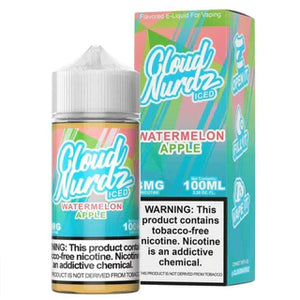 VapeNationpk
Watermelon Apple-Iced Cloud Nurdz 100ML
Regular price
Rs.4,400.00
Rs.0.00
Unit price
per
Watermelon Apple-Iced by Cloud Nurdz E-Liquid
Watermelon Apple-Iced by Cloud Nurdz -The closest thing to enjoying a slice of watermelon apple pie that you can get in a vaporizer is Cloud Nurdz Watermelon Apple Ice.

This e-juice is crafted from a watermelon and apple mixture of all-natural components that you might anticipate finding in your new favourite fruit basket. Cloud Nurdz Watermelon Apple Ice e-liquid is a fantastic option if you're searching for something new to try or just feel like indulging in something sweet. The ideal e-liquid for the summer.
Flavors: Watermelon Apple-Iced - Watermelon | Apple | Candy | Menthol
Features: Bottle Size- 100mL Unicorn Bottle
Available Nicotine -3mg | 6mg - Tobacco Free Nicotine
VG/PG Ratio - 70VG/30PG
Visit our store in Lahore, and experience our amazing customer service.
---
Share this Product
---