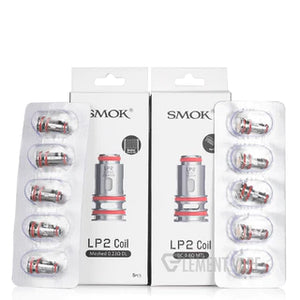 VapeNationpk
SMOK LP2 Replacement Coils (1 PCE)
Regular price
Rs.800.00
Rs.0.00
Unit price
per
SMOK LP2 Replacement Coils:
SMOK LP2 Replacement Coils are specially developed for use with SMOK RPM 4 Kit and SMOK RPM 4 Cartridge. It is an improved version of the LP1 series coils, keeping the leak-proof design but enhancing the internal heating elements. The SMOK LP2 coils were created for flavour, vapour, and a superb vaping experience overall. To fit your requirements, the coils are offered in a variety of resistances. Work on creating a leak-proof vaping experience with the LP2 Meshed 0.23 ohm, DL Coil. Vaping directly into the lungs. they expanded the contact area for massive cloud production. Work on creating a leak-proof vaping experience with the LP2 DC 0.6ohm coil.
Dual coils for excellent flavour and vapour. Three silicone rings are used in this series' coils to ensure tightness. Each silicone ring is the exact same shade of colour. The other silicone ring on the coil's bottom would fill the space created when it was inserted into the pod, essentially stopping liquid leakage from the pod that would otherwise lead to messy vaping or dirty hands. The SMOK LP2 coil contains several honeycomb-shaped holes in the heating wire within. A delicious taste with a smooth flavour and rich vapour emerges spontaneously when the mesh coil comes into contact with the saturated cotton. Each set has 5 pieces.
Features:
LP2 Meshed 0.23ohm DL Coil, 20-45W
LP2 DC 0.6ohm Coil, 15-25W
LP2 Meshed 0.4ohm Coil, Best 25W
5PCS Per Pack 
Visit our store in Lahore, and experience our amazing customer service.
---
Share this Product
---