VapeNationpk
RELX Essential Vape Pod Kit
Regular price
Rs.3,000.00
Rs.0.00
Unit price
per
RELX Essential Vape Pod Kit Online in Pakistan
The RELX Essential pod kit is a pre-filled pod device ideal for users of all experiences, especially those switching over from smoking. Powered by a 350mAh built-in battery, this streamlined, lightweight pod device features a stripped back, simple operation for low maintenance vaping. Compatible with the RELX 1.9ml pre-filled pods (sold separately), available in a range of flavours, these pods contain an 18mg, 30mg, 50mg salt nicotine blend offering a smooth throat hit with a fast absorption of nicotine.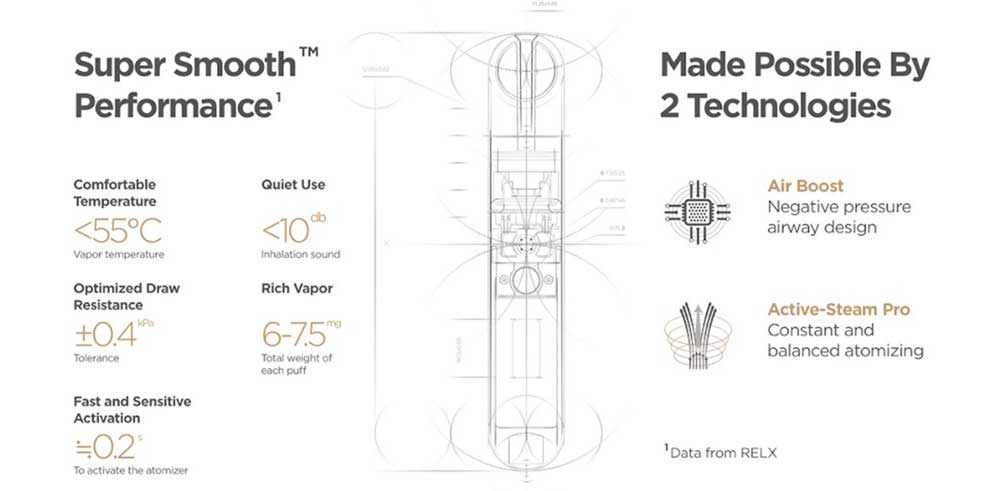 Ideal for vaping on the go, the RELX adopts a pocket-friendly design with a resilient construction for enhanced durability. Offering ultimate ease of use, this kit is fired via inhale activation without any buttons or menu interfaces, whilst delivering an estimated 500 puffs per charging cycle. The RELX is to be recharged using the Type-C USB charging method, for an increased power output and fast charging capabilities of 40 minutes when fully depleted.
The RELX Essential is the ideal vape kit for anyone looking to make the switch to vaping, thanks to the easy setup, prefilled pods and smooth performance. Existing vapers looking for a virtually maintenance-free vape pod kit would find the RELX Essential to be a well-considered choice.
Pre-Filled Flavour Pods
350mAh Built-In Battery
Slimline, Lightweight Design
Inhale Activated
500 Puffs Per Charging Cycle
Type C-USB Charging
1.9ml E-Liquid Capacity
Salt Nicotine Blends
Colors : Black, White, Blue, Neon Purple, Green
Visit our store in Lahore, and experience our amazing customer service.
---
Share this Product
---