VapeNationpk
OXVA XLIM 25W POD SYSTEM KIT – 900MAH
Regular price
Rs.7,000.00
Sale price
Rs.7,500.00
Unit price
per
Discover the OXVA XLIM Pod System, featuring a 5-25W output range, integrated 900mAh battery, and utilizes a 0.8ohm or 1.2ohm pod for flavor delivery. Constructed from durable aluminum alloy, the chassis is lightweight yet strong, protecting the internal 900mAh battery inside. Delivering up to 25W, the wattage is adjustable with the single firing button. On the side of the XLIM Pod System is an airflow adjustment valve, offering the options of a restricted direct lung or MTL airflow. With two 2mL pod options, the OXVA XLIM can call upon an integrated 0.8ohm or 1.2ohm coil for delivering delicious flavor from your favorite eJuice or nicotine salt.
The OXVA Xlim Pod System Kit, which is constructed of aluminum alloy and PCTG, is the best all-around pod for X-treme flavor and a strong throat punch. The OXVA Xlim Pod Kit has a 900mah battery and can provide up to 25W of power. OXVA Xlim features a 0.42-inch OLED Mini Screen as well as Auto-draw and Manual ignition. The Xlim Pod System has a side airflow control design. The OXVA Xlim comes with a 2ml anti-leaking pod with a top filling design.
Infographics:
Check out OXVA XLIM Pod Kit's infographics for a better understanding of its functions and features.
The OXVA XLIM Pod kit comes with a variety of features, which apparently no other pod system devices inculcates.
For a start, there is an 0.42in OLED screen to display your vaping data and you can adjust the wattage output from 5 to 25W.
Another great feature is the airflow control located on the side of the device to allow you to adjust the airflow to your preference.
Inside the mod is a 900mAh battery which is charged via the USB Type C port at up to a 1A charge rate.
This uses refillable but disposable pods. Basically, when the coil performance has deteriorated over time you do not need to get your hands mucky changing a coil. You simply discard the whole pod section.
As mentioned this is refillable – there are 2 capacity options that seem to tie in with the filling style. The 2ml pod has a top fill port whereas the 1.6ml version has a "PTF" (Push To Fill) port. This is like a one-way valve that you open by inserting the e-liquid bottle nozzle when filling. It then closes to help prevent leaking and access to the chamber by children.
There are 2 different pod types – both included in the kit – the 0.8ohm pod has an 0.8ohm Kanthal Coil and is best at 12-16W. There is also the 1.2ohm pod – again with a Kanthal coil and is rated 10-12W.
You can choose between six different colors: Silver, Rose Blue, Green, Dark Blue, Gunmetal, and Black.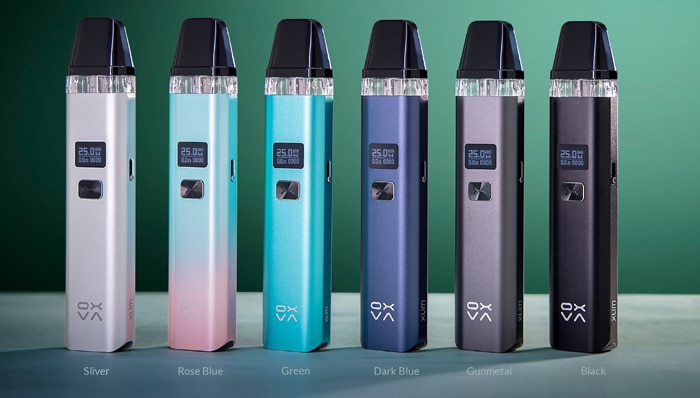 OXVA XLIM Pod System Features:

Dimensions – 111mm by 24mm by 14mm

Integrated 900mAh Rechargeable Battery

Wattage Output Range: 5-25W

Aluminum-Alloy Chassis Construction

Intuitive Fire Button

0.42″ Display Screen

Airflow Adjustment Valve

2mL Pod Capacity for XLIM Pod

Top Fill System – Mouthpiece Cap

Integrated 0.8ohm Coil

Integrated 1.2ohm Coil

Magnetic Pod Connection

Temperature Protection

No Atomizer Protection

Short-Circuit Protection

Vaping Overtime Protection

Low Battery Protection

Type-C USB Port


OXVA XLIM Pod Kit Available Colors: Dark Blue, Black, and Gunmetal
Includes:

XLIM Device

0.8ohm XLIM Cartridge

1.2ohm XLIM Cartridge

User Manual


USB Cable
Visit our store in Lahore, and experience our amazing customer service.
---
Share this Product
---