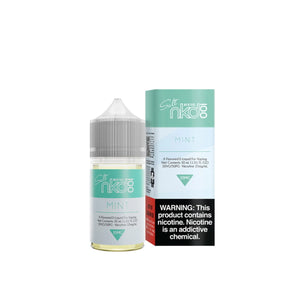 VapeNationpk
MINT - NKD 100 SALT E-LIQUID - 30ML
Regular price
Rs.2,800.00
Sale price
Rs.3,400.00
Unit price
per
One of the best NKD 100 salt menthol flavors Mint, frozen mint leaves chilled with liquid menthol to create the most authentic and pure ICE flavor to date. This Arctic Air Salt flavor is HIGH IN NICOTINE and meant ONLY for mouth-to-lung devices - THIS E_JUICE IS NOT MEANT FOR DRIPPING ATOMIZERS OR SUB-OHM TANKS. Arctic Air by NKD 100 Salt E-Liquid is an exhilarating nicotine salt eJuice, taking the frigid essence of frozen mint leaves and adding icy menthol for an Arctic vape that will refresh the senses and chill the soul. See if you can brave the minty frigid Element! 
Warning: This product is not meant for use in devices that reach sub-ohm resistance. We recommend this liquid to be used in vape pod system and ultra low-output atomizers/mods. Every nicotine salts e-juice contains significantly higher levels of nicotine per milliliter, optimal for beginners or experienced vapers looking for a travel-friendly experience.
NKD 100 Salt E-Liquid - Artic Air Features:
30mL Chubby Unicorn Bottle
Child Resistant Cap
Nicotine Salts Formulation
Crafted For Ultra-Low Wattage & Pod-Based System
Made in USA
Available nicotine: 35mg
Visit our store in Lahore, and experience our amazing customer service.
---
Share this Product
---