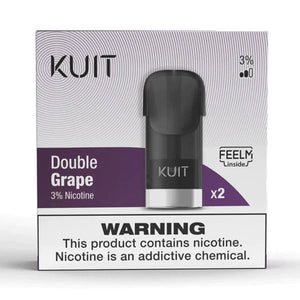 VapeNationpk
KUIT Pods – Double Grape (2pcs)
Regular price
Rs.1,800.00
Rs.0.00
Unit price
per
KUIT Pods – Double Grape (30mg) (2pcs) in Pakistan
KUIT devices and pods are featured with the latest FEELM tech which has been proven over the years that the technology is superior to any other liquid heating method. KUIT devices and Pods are made with the newest iteration of FEELM Tech that is even superior to some of the mainstream market leaders in closed pod systems.
FEELM pods produce better vapor production with the best nicotine absorption as the particles are small enough to be better absorbed by your lungs.
For the reason of great taste produced by a FEELM Pod and good nicotine absorption, FEELM pods have the No.1 success for smokers to quit and shift to a better healthier alternative.
KUIT Pods – Double Grape Features:
2ml of e-liquid in pod cartridges.
Specifically crafted and designed.
Contains nicotine salts.
Nicotine concentrations: 30mg
Visit our store in Lahore, and experience our amazing customer service.
---
Share this Product
---