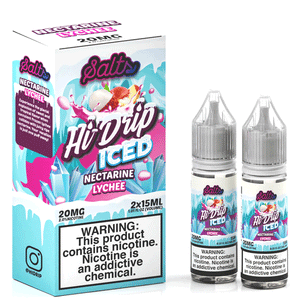 VapeNationpk
Hi Drip Salt – Nectarine Lychee Salt ICED 2x15ml ( 20 , 50 mg )
Regular price
Rs.3,200.00
Sale price
Rs.3,400.00
Unit price
per
Hi Drip Salt – Nectarine Lychee ICED 15ml and 30ml ( 20 , 50 mg )
Hi Drip Salt Nectarine Lychee Salt ICED is a fruit chew with a complementary blend of sweet nectarine and tropical lychee finished with cool menthol. Enjoy juicy nectarines rounded off with lychee and cool menthol in an all in one delectable fruit chew rendition with Nectarine Lychee Iced E-Liquid. Hi Drip has done it again, come see why this blend is a spot on fruit menthol all day vape that will keep you coming back for more!
Hi Drip Salt Nectarine Lychee ICED contains salt nicotine strictly for the popular vape pod systems. It comes in salt nicotine strengths 20mg or 50mg. Uniquely, Hi Drip Salt Nectarine Lychee ICED comes packaged in two 15ml squeeze bottles to avoid unnecessary bulk in your pocket.
Hi-Drip Salts Water Melons Iced Features:
Primary Flavors: Nectarine Lychee & Iced
Nicotine Strengths: 20mg & 50mg
Size: 2 x 15ml Squeeze Bottles
Ratio: 70VG / 30PG
Visit our store in Lahore, and experience our amazing customer service.
---
Share this Product
---