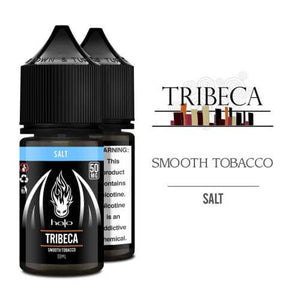 VapeNationpk
HALO TRIBECA Smooth Tobacco SALT NIC EJUICE - 30ML
Regular price
Rs.3,550.00
Rs.0.00
Unit price
per
A renowned e-liquid that stands alone among all others, Tribeca has set the industry standard with the flavor of smooth, transcendent tobacco with a velvety, sweet finish. Now this fan-favorite is available in a nic salt variation, with the same smooth flavor, providing you faster nicotine delivery, longer-lasting nicotine effect, and more discreet vaping.
Nic salts are not recommended for use in sub-ohm devices. Read more about nic salts below.
--
About Tribeca Nic Salt
They're the most in-demand product in the e-liquid world today, and we've got them! Halo Tribeca Nic Salt takes vaping to an entirely new level of satisfaction you've never experienced before.
Here are some of the features:



Faster, more powerful nicotine delivery


Minimal vapor production — allows discreet "anywhere" vaping


Longer-lasting nicotine effect — less consumption saves you money!


Analog cigarette-like experience — ideal if you're a smoker looking to switch!


Perfect throat hit


Salts have longer shelf life


Works with user-friendly devices


Visit our store in Lahore, and experience our amazing customer service.
---
Share this Product
---