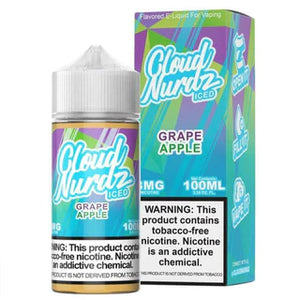 VapeNationpk
Grape Apple Ice – Cloud Nurdz – 100ml
Regular price
Rs.4,400.00
Rs.0.00
Unit price
per
Grape Apple Ice – Cloud Nurdz – 100ml
Cloud Nurdz Grape apple Ice ejuice by Cloud Nurdz has a Great flavor and a perfect menthol mix which you can taste in every puff. Once bought, it will be on your go-to e-liquid list. It is super tasty and has a beautiful cool finish.
In short "Apple and grape blend together in a balanced sweet and tart combo with the perfect icy exhale".
If you like the coolness, not too strong and not too wimpy, choose Cloud Nurdz Grape Apple Ice e-liquid. If you are sensitive to e-liquid smells (this will work well for you).
Cloud Nurdz Grape apple Ice e-liquid is nicely balanced, the grape flavor is subtle but very present.
You will vape this 100ml bottle in a week and order several of these at a time, the flavor is that good.
Cloud Nurdz Grape apple Ice E-liquid by Cloud Nurdz has been created with a unique taste that will delight your taste buds.
WARNING: This product contains nicotine. Nicotine is an addictive chemical
Cloud Nurdz E-Liquid – Grape Apple Ice Features:
Primary Flavors: 

Menthol, Grape, Apple, Candy

Manufacture: 

OG E-Liquids

Brand: 

Cloud Nurdz

Nicotine Level: 

0mg, 3mg, 6mg

Size:

 100mL

VG:

 70%

PG

: 30%

Bottle:

 100mL Chubby Gorilla Unicorn Bottle
Visit our store in Lahore, and experience our amazing customer service.
---
Share this Product
---