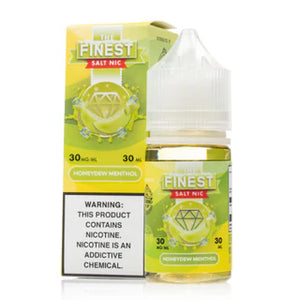 VapeNationpk
FINEST SALT NIC HONEYDEW MENTHOL - 30ml
Regular price
Rs.3,200.00
Sale price
Rs.3,400.00
Unit price
per
Honeydew Menthol 30ml - Finest SALT NIC Juice
Honeydew — the sweetest fruit basket star in the world can now be a very attractive vape for your vape, thanks to this delicious Honeydew Menthol Salt Nic Juice and frost. A refreshing blend of honey and cool mint spices, this Honeydew Menthol Salt Nic Juice creates a satisfying vape for the whole day that starts out delicious and ends up fresh. Ideal for those who enjoy soft vapors that do not irritate the palate, Finest  Honeydew Menthol Salt Nic Juice is an excellent choice for those who enjoy a clean, cool, and refreshing taste.


Finest Honeydew Menthol Salt Nic Juice comes with a nicotine bottle of 30ml salt juice of your choice between 30mg (3.0%) and 50mg (5.0%) of nicotine. Not hyped about honeydew? Be sure to browse the full selection of The Finest in Liquids, which includes both nicotine salts and freebase evape juices.
Honeydew Menthol - The Finest SALT NIC Features:
30mL Unicorn Bottle

Child Resistant Cap

50% PG

50% VG

Nicotine Salts Formulation

Crafted For Ultra-Low Wattage & Pod-Based System

Made in USA

Available 30mg, 50mg
CALIFORNIA PROPOSITION 65 - Warning: This product contains nicotine, a chemical known to the state of California to cause birth defects or other reproductive harm.
Visit our store in Lahore, and experience our amazing customer service.
---
Share this Product
---