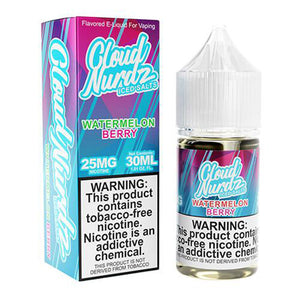 VapeNationpk
Cloud Nurdz Watermelon Berry Iced Salt 30ml
Regular price
Rs.3,200.00
Sale price
Rs.3,400.00
Unit price
per
Cloud Nurdz Watermelon Berry Iced Salt 30ml, 25mg, 50mg
The Cloud Nurdz Watermelon Berry Ice E-liquid is a fantastic watermelon and berry combination. This e-juice will make all your summer days enjoyable (thanks to this fruity taste sensation).
Rediscover the joy of vaping and refresh your vaping experience with this watermelon berry iced salt flavor by Cloud Nurdz. If you've never tried Cloud Nurdz Watermelon berry Ice (Salt) e-juice, you're missing out.
It's a refreshing vape that is nothing short of delicious.
Warning: This product is not meant for use in devices that reach sub-ohm resistance. We recommend this liquid to be used in vape pod system and ultra low-output atomizers/mods. Every nicotine salts e-juice contains significantly higher levels of nicotine per milliliter, optimal for beginners or experienced vapers looking for a great experience.
Note: This Flavor is now formulated with Tobacco-Free Nicotine, synthetic nicotine not derived from tobacco leaves. This may result in a different experience as TFN can reduce the harshness profile typically in regular E-Liquids
Cloud Nurdz SALTS – Watermelon berry
Features:
30mL Unicorn Bottle
Child Resistant Cap
50% PG
50% VG
Nicotine Salts Formulation
Crafted for Ultra-Low Wattage & Pod-Based System
Made in USA
Manufactured by OG E-Liquids
Visit our store in Lahore, and experience our amazing customer service.
---
Share this Product
---