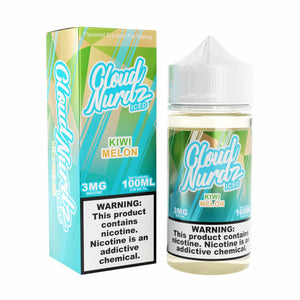 VapeNationpk
Cloud Nurdz Kiwi Melon Iced – 100ML
Regular price
Rs.4,400.00
Rs.0.00
Unit price
per
Cloud Nurdz Kiwi Melon Ice 100ml
The Kiwi Melon Ice E-liquid by Cloud Nurdz is a mouthwatering blend of juicy, refreshing kiwi and ripe melon. Kiwi Melon Ice E-liquid tastes like the real fruit, but with more flavor and balanced sugar ratio. Kiwi Melon Ice E-liquid will satisfy any sweet tooth.
Kiwi Melon Ice E-juice by Cloud Nurdz is a sweet and relaxing vape that is sure to satisfy.
If you're looking for something other than fruity flavors, then this is the perfect choice for you. This e-liquid is a sweet and refreshing mix of melon and kiwi that will definitely satisfy your cravings.
It has a nice flavor on exhale and won't burn your coil. You will always have a perfect hit with Kiwi Melon Ice E-liquid by Cloud Nurdz. This E-liquid is recommended as it brings out the fruitiness of the kiwi melon and gives you an extremely smooth and flavorful experience.
It comes in a 100ml bottle, contains nicotine, and has 70% VG & 30% PG. Cloud Nurdz Kiwi Melon Ice is available in 0mg, 3mg & 6mg nicotine strength.
Cloud Nurdz E-Liquid – ICED Kiwi Melon Features:
100mL Chubby Unicorn Bottle
Child Resistant Cap
30% PG
70% VG
Made in USA
Available in 3mg
Visit our store in Lahore, and experience our amazing customer service.
---
Share this Product
---